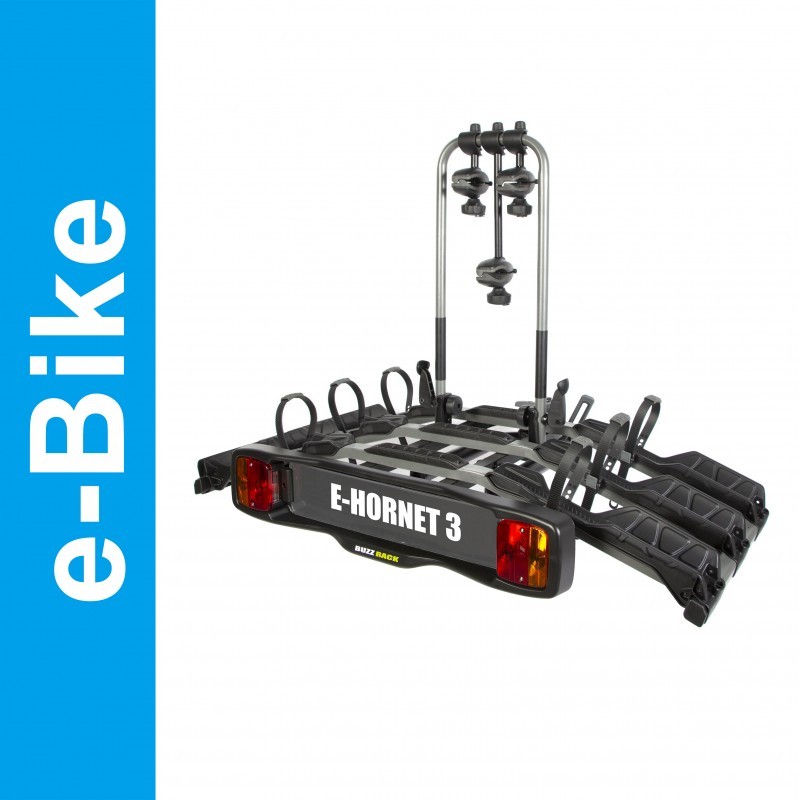  
E-HORNET 3 - Platform for 3 Electric Bikes
Secure payment with HiPay or by bank transfer

Delivery 3 to 4 days

Easy return
Compare with other bike racks
The E-HORNET 3 is designed to carry up to 3 bikes without additional kit, for a maximum weight of 60kg. Easy assembly with high stability of the conical clamping system. Quick release ratchet straps and unique cradle design allow for quick and easy loading of bikes. Specially designed for E-bikes (electric bikes) it accepts bikes with a wheelbase up to 134 cm in 29" easily attachable thanks to its clamp system with lock.
Functionality(ies)
TOW BALL ATTACHMENT

The patented conical attachment system fits on all 50 mm diameter towballs. Simple, fast and efficient. The system can be locked and secured by the locking button.

This system is one of the few that can claim to meet the highest safety standards.

WHEEL SUPPORTS

The wheel supports fit all wheelbases, even very small children"s bikes.

Secure system with a locking button.

LOCKING CLAMPS

The clamps are large enough to fit most bicycle frames.
Heavy-duty nylon pliers, each with a locking button

INCLINE

Truly easy to tilt, well balanced during the tilt phase, and tilts enough to allow access to the trunk.

LIGHTS

Supplied with 3 standard function lights and a 7-pin plug

RAMPE

Ramp available as an accessory, very useful in case of electric bikes to carry, avoids having to carry the 25 to 30kg of an electric bike at arm"s length.
Technical specifications
MAX number of bikes: 3
Tow ball compatible: yes
Compatible with sign collar / detachable ball: yes
Dimensions (Width x depth x height): 127 x 88 x 89cm (26cm folded)
(measured from the center of the hitch ball bracket to the outer edge of the license plate bracket).
Weight: 18.8 kg
MAX load: 60kg
Weight max par vélo: 30kg
Tilt: yes
Anti-corrosion treatment : yes
Integrated lighting panel: yes
Type of light panel socket: 7 pins
Verryesllage de la boule: yes
Verryesllage du vélo: yes
Max. tire width: 4""
MAX bike wheelbase : 134 cm in 29"".
Standards : XP R-18 904-4
The maximum load you can carry is also determined by the weight of the tow bar; you will need to verify that you do not exceed this before using a hitch ball mounted bike rack.
Nécessite un dégagement de 65 mm entre le centre de la boule de remorquage et l"arrière du véhicule. Si vous avez une prise à 7 pins, le feu de recul et le feu antibryesllard ne fonctionneront pas.
La prise à 7 pins n"est pas câblée pour ces fonctions.
Does not allow the opening of the tailgate for the vehicles of type van (VW transporter, Citroën berlingot, Peugeot partner, Renault master,...)
You might also like